Back
Top tips to Lower the Cost of Van Insurance
Everyone loves to save money and there's no reason why you should be paying over the odds for a decent policy. We're here to help in your quest to get cheaper van insurance. Read our comprehensive guide to find out how.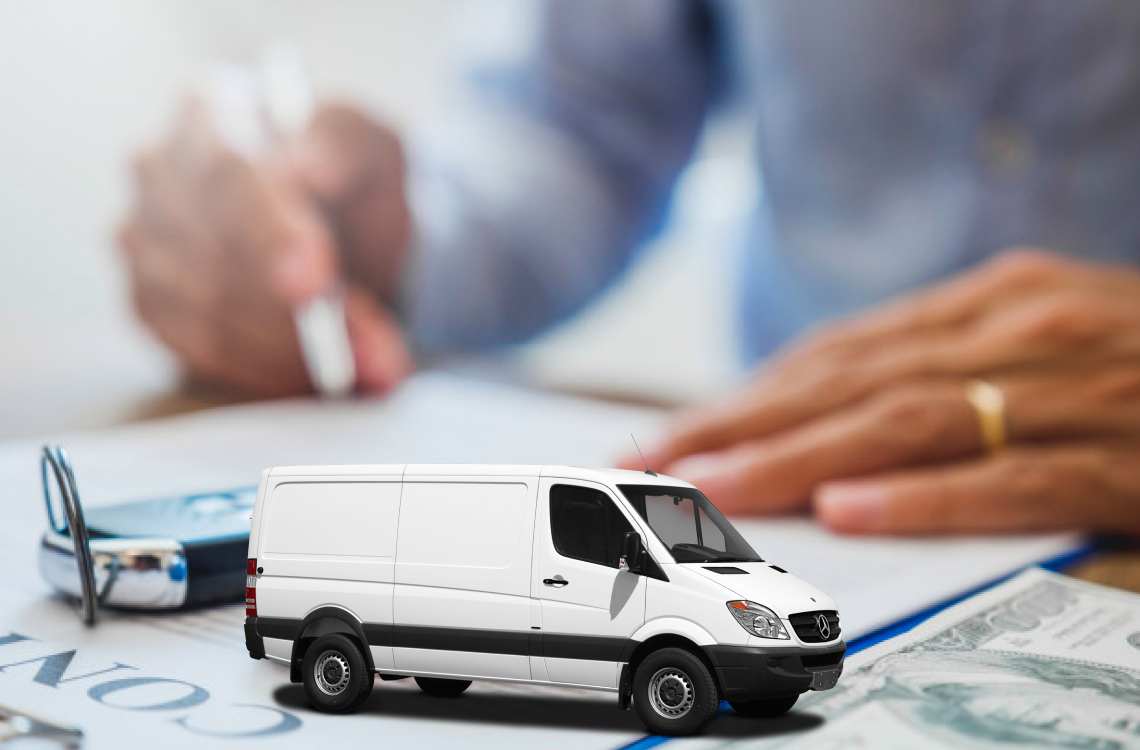 Think carefully about the size of your Van
When it comes to getting cheap Van insurance, size really does matter. Small Vans tend to be the cheapest to insure because the engines are smaller and not as powerful. A bigger, more powerful Van to an insurance company simply translates to bigger accident risk.

Driving a Van in a lower insurance class will ensure that your premium stays low, not to mention costing less to run. Think carefully about your choice in Van. Does it really suit the day to day requirements of your business? If you can, consider downsizing to something smaller or something with a less-powerful engine.
Pay your premium annually
You should, when possible, pay your full insurance premium up front instead of over 12 months. Most insurance companies will charge you extra for a month by month policy as they will be charging interest on top of your premium. One of the quickest and easiest and smartest ways to save money on Van Insurance is to pay annually.
Increase your voluntary excess
Excess comes in two forms. Firstly, your insurer defines a compulsory excess which can't be avoided. Secondly is the voluntary excess, which is an amount you can specify to pay in the event of a claim. Increasing the amount of voluntary excess will help to lower your premium.

Although Increasing your voluntary excess will have a positive impact on reducing your premiums, it can also have the opposite effect on your wallet. Should you need to make a claim, you will need to pay any voluntary excess on top of the compulsory excess. Be sure that this makes sense financially and that its affordable in the event of a claim.
Making use of your No Claims Bonus (NCB)
One of the sure-fire ways to reduce your Van Insurance premium is by building up a No Claims Bonus. If you haven't made a claim on your policy over a 12-month period, you'll automatically be granted a year's NCB. The more no claims you build up, the cheaper your Van insurance will become.

Of course, in order to benefit from an NCB discount, you'll need to avoid making a claim.
Review named drivers on your policy
It's wise to carefully consider the named drivers which you have on your policy. Adding anyone under the age of 25 or those with a tainted history of driving convictions, points or claims will quickly push your premiums up.

On the flip side, adding a named driver that has a solid, clean driving history and held their licence for 8+ years could actually help bring down your overall premium.
Look into extra security
As soon as possible, you should look into installing extra security devices on your Van such as an upgraded alarm, immobiliser, dead bolts or other locking devices. These devices are great for visually deterring wannabe thieves and overall, extra security will help you to get the cheapest Van Insurance quotes.

Fitting a tracking device is also looked upon favourably by Van insurance companies. If your van does get stolen, there's a good chance you'll get it back again. If you are able to park in a safe area, secure garage or off-street, your also likely to get a better deal.

Since 2019, there has been an enormous rise in Van-related thefts in the UK. The biggest target for thieves is tools and equipment left in Vans overnight or when unattended. In the last 2 years alone, tool theft has risen almost 54% with the average claim being around £1,684*

Investing in a good alarm system and taking some other precautions such as emptying your Van at night is now more important than ever. If you can show your insurance company you are serious about security, they are likely to reward you with a lower cost premium.
Be honest & accurate
When gathering Van insurance quotes, it's important that you are upfront and honest about all aspects of your policy, from your intended use of the Van to whether you have any claims or convictions and where you keep the Van at night.

Providing any information that later turns out to be false or misleading could invalidate any claim you need to make. This is guaranteed to make your insurance premiums higher in the future.
Limit Mileage
This is sometimes easier said than done but limiting the amount of mileage you do in a year can have a positive effect on reducing your insurance premium. Your chances of having an accident are significantly lower if you spend less time on the road. Reducing overall risk will help to reduce the cost of your cover.

If you are a small local tradesman for example, you will most likely receive a cheaper quote then a nationwide courier. In any case, remember to be honest about your mileage and the use of your Van when getting quotes.
Avoid modifications to your Van
Your insurance company will want to know about any modifications that have been made to your Van which changes it from factory standard. Not declaring modifications of any sort could invalidate your insurance.

If you do Modify your Van, either to improve its performance or its looks, your unlikely to end up with a cheap Van Insurance quote. Modified parts make your Van more attractive to thieves and are usually more expensive to repair or replace. Performance related modifications will also place your Van at higher accident risk in the eyes of your insurer.

Our top tip – leave the van as standard. It helps reduce your premium and also makes it easier to sell later down the road.
Shop Around & Compare different levels of cover
It's important to compare all the options when searching for lower Van insurance cover. Contrary to popular belief, Third Party Only polices aren't always the most cost effective, especially in the event of needing to make a claim.

Getting the right level of cover for you, your Van and your tools is far more important than trying to save a few quid. In the event you do need to make a claim for any reason, you'll be thankful that everything is taken care of and that you're not left out of pocket or unable to work.

If you really want to find the right cover at the right price, compare Third Party Only, Third Party Fire & Theft and Fully Comprehensive from a range of different insurers. You can get instant access to an array cheap commercial van insurance quotes by using our online price comparison platform.